05/12/14 Up and down and all around Light N Variable

Fishing has been up and down, but all around as of late. Flounder have slipped into the waters but most remain on the small side, with a few keepers in the mix. This shall change soon if stable weather will allow for clear water to stay with us. I've been mostly targeting redfish on my trips and have had success most outings though the bite has consistently changed from place to place. Catch'em here one day and don't get a bite the next. Luckily, we've put together decent to good trips most days by sticking with it and keeping on trying other spots. We even had an unusual 28 pound redfish that was not caught at the inlet nor in the ocean...always something that makes you shake your head when inshore fishing our saltwater estuaries! Call soon to book your own Ocean Isle Fishing Charter. Catch you on the next tide
Capt.Mark Stacy
---
05/12/14 More pics Light N Variable
Capt.Mark Stacy
---
03/06/14 Spots are running... Light N Variable

I hope that title doesn't bring all the spot netters back into the waterway, because I was talking about the spot tails of redfish and our speckled trout. Even though we've had a chilly winter so far, last week saw temps warm up enough to engage in some fishing that included sizable speckled trout along with our usual redfish gangs that hang around and present themselves most of the winter. On a quick trip last Saturday we convinced at least 8 or 9 trout that would've been all keepers with several easily over the 3 pound mark to hit our vudu shrimp. We were using the smaller version in both chartreus and brown. We caught a few reds in the same vicinity, but ended the day stalking a group of at least 40 sizeable reds until daylight waned on our outing. Truth being, this has been one of the most consistent winters I can remember on sizeable trout. We went for a while catching a number of smaller fish, but there was only about a month lull between only hammer handles and 3 plus pounders...even in the cold mess of a winter we've had. Using my shallow water ranger banshee has been the ticket in catching both species and offers the best possibility this time of year for success. I can take 1-2 people and look forward to offering you the opportunity to enjoy a fishing adventure if you're up to the game. Just check the tides and the weather...a low tide in the middle to late day has been the best bite, especially after a day or two of warmer weather! Call to get in on the opportunity at a reduced rate! 910-279-0119. The fish are here!...as long as the weather allows. Till the next tide...
Capt.Mark Stacy
---
04/25/12 Ocean Isle Fishing Light N Variable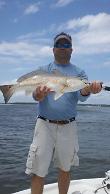 The Ocean Isle Inshore Fishing scene has been up and down lately, but we've been working and finding at least a decent amount of fish every outing. Flounder have begun to be more reliable while working a mud minnow on a Carolina rig or a jighead both in the waterway and the Tubb's Inlet area. Most of those fish have been on the smaller side, but we are seeing more keepers coming into the mix. The Shallotte River has been producing more keepers in the last few weeks as well. The creek fishing for redfish has been hit and miss with some days ok and some days slow, but the black drum bite has been a little more consistent. I've been lucky enough to procure some live shrimp recently for a few trips, and have ventured out to the Little River Jetty's finding a decent redfish bite with a trout or two in the mix, but you have to be willing to be patient and move around a good bit. With water temperatures on the rise, the Ocean Isle Inshore fishing action should do the same!

On another note, there is local "captain" that has on his fishing report astronomical flounder catches to be consistent, with numerous keepers on "most" trips. Of course it is backed up with a picture he used on his brochure...which is obviously not recent. There are a decent number of good local guides in the area and it's unfortunate to see someone stretch the truth just to self promote and deceive the public.

Feel free to call anytime to see what's biting and ask what kind of experience to expect on a guided trip. We here at Ocean Isle Fishing Charters have no desire to make up fishing stories just to get you to book a trip.


Capt.Mark Stacy
---
04/25/12 Ocean Isle Inshore Fishing Light N Variable



A few more recent pictures of some Ocean Isle Fishing Charters.
Capt.Mark Stacy
---
04/08/12 Ocean Isle Fishing Charters Light N Variable
The week before Easter was busy for the Shallow Minded crew with 3 boats running most everyday. Fishing around the low tide was the most productive for me as we would hit spots that regularly hold redfish or black drum and check them with various methods from soaking a chunk of crab to casting live mud minnows pinned to a jighead. The spring community hole was producing a steady bite of fish early in the week, but that dwindled quickly to little or nothing with 8-10 charter captains hitting it daily. Luckily we found a couple of spots that were producing some action for the drum to cap off the week...at least until the weather got us. As with all fishing, it's been up and down, but everyone has had at least a decent catch on most half day charters thus far. With rising water temps and availability of live shrimp via the f/v Struckin Fugglin, I look for our fishing horizons to expand in the next few weeks. Flounder should become more reliable and bigger as well taking the time to target some speckled trout with what live shrimp we can store. If you are looking for some Ocean Isle Fishing Charters with an experienced inshore guide feel free to give me a call 910-279-0119.
Catch you all on the next tide...



ocean isle charters
ocean isle fishing charters
ocean isle inshore charter
ocean isle fishing guide
ocean isle fishing
ocean isle fishing charter
Capt.Mark Stacy
---
02/28/12 Ocean Isle Fishing Guide Shallow Minded



Welcome to OceanIsleFishingCharters.com, this website is a joint venture between myself, Capt. Mark Dickson, and Capt. Mark Stacy. Though this may be a fairly new website, guiding clients is not new to either of us. I, Capt. Mark Dickson, am in my 14th year of full time guiding and Capt. Mark Stacy has been running charters for the last 5 seasons. We have a combined local fishing experience of almost 40 years and our goal is to provide the Ocean Isle Beach/Sunset Beach, and surrounding Brunswick County Beaches with a first class guide service as we have been doing for the Myrtle Beach vacationers and locals. We only use top of the line fishing tackle, and you will be fishing from some of the finest bay boats made by PathFinder and Triton. Both boats are powered by dependable and quiet 4 stroke outboard motors. Our goal is to provide you with a service that you continue to come back to year after year. Your safety is our # 1 concern and catching fish and creating memories is a close second. We welcome families with younger kids or the most experienced anglers, we will customize the trip to fit your needs. We prefer to fish the backwater creeks or the Intracoastal Waterway for Redfish, Flounder and Speckled Trout, but there are more options out by the inlet or on one of our near shore reefs. Please give us a call when considering a fishing trip and even if you are not interested in what we offer we will gladly point you in the right direction. We recommend Sheffield's Island Grocery for all your vacation needs, they have bait, tackle, fuel, ice, beer, wine, and snacks. Stop by and say Hi and tell them Capt. Mark sent you their way. Call us for your Ocean Isle Inshore fishing charters! We are more than happy to share our love and experience of the local waters as your Ocean Isle Inshore Guide! Feel free to keep up with our Ocean Isle Fishing report right here on
www.oceanislefishingcharters.com
!
Catch you you guys on the next tide....
Capt. Mark Dickson
---
02/10/12 February Flounder and Redfish Light N Variable


It was a mild overcast winter afternoon when I ventured out the other day in search of redfish around the Ocean Isle Beach area. Armed with a gulp shrimp on a 1/4 ounce jighead I began to fan cast an area in hopes that a redfish would find my offering while I was waiting on the tide to fall a little further before going where I really wanted to fish. About 4 casts into my venture I felt the tell tell thump that is associated with a flounder bite, and sure enough a nice fat 15 incher began fighting back as I set the hook. I wasn't that surprised as we do stumble upon a few winter flatties on occasion...but when my next 3 casts produced 2 more flounder I was a little stunned to say the least. As the current began to slow I positioned myself right where I wanted to target a group of redfish we had located a few weeks ago. I must've thrown it right on one's head because as I made my first lifting motion of my rod to work the bait I felt a fish pick up my bait and run right towards the boat. The action for the next 30-45 minutes was steady as I picked up 8 or 9 redfish and added another 3 flatties to the afternoons total. Not bad for only two and a half hours on the water!
Though my attention has been geared to redfish, there have been a good amount of trout around as well. I hope this Ocean Isle Fishing Report will spur you to come on down to beat the winter blues and book your own Ocean Isle Fishing Charter!
Catch you all on the next tide...
Capt.Mark Stacy
---
01/19/12 Ocean Isle Fishing Report Light N Variable
I know this update for an Ocean Isle inshore fishing report is long overdue, so I'll hit some of the highlights since early November. Trout was the main source of action from Little River to just about anywhere you wanted to wet a hook up until just before Christmas. It really didn't matter much if you were floating live shrimp, casting some form of shrimp imitation or practicing the old school method of trolling grubs, big numbers were the norm, though lots of fish were on the small side. Unless we see some extended periods of really cold weather, this seems to be great news for our local stock of speckled trout in the Ocean Isle and surrounding areas and hopefully the spring will continue showing us that trend. For the majority of November and December I drove around with a fishing rod in my truck, rigged with a Billy Bay Halo shrimp so I could stop and cast in the canals of Ocean Isle Beach. The bite was on for a while in several spots, and about 10 minutes was all you needed to spot check a few places and find the fish! Trout, a few redfish, and even some flounder were more than willing to suck down my shrimp imitation most every outing and I found myself hooked up while fishing from a bank or a dock. At times it was almost every cast!
With winter water temps finally settling in on the area, the great trout bite of 2011 finally slowed though is not over by any means. This is the time of year I've come to enjoy most, with the hunt of redfish on the brain. Typically Capt Mark Dickson and myself are plying the local creeks in search of the next large school of reds on a regular in January. With the combination of real estate work, windy days, and wrong tide days our excursions have been more limited than in past years, but we have located some nice schools of redfish to bend our poles when mother nature and human timing have allowed. Of course it seems any day I'm on office duty is a beautiful weather day, and I only get to live vicariously through texted pictures as Mark leaves me sitting in my office! If you are interested your own Ocean Isle fishing charter searching for redfish this time of year, give Capt Mark Dickson a call 843-458-3055! His ranger phantom flats boat is the cat's meow when it comes to skinny water fishing and his experience of our shallow water creeks and the redfish they hold is second to none. I look forward to keeping you all updated more often through the rest of the winter and into the spring as our hunt for redfish continues! Call today to book your Ocean Isle inshore fishing charter!
Catch you on the next tide!

Capt.Mark Stacy
---
11/06/11 Ocean Isle Inshore Fishing...= speckled trout! Light N Variable
Yes folks, the speckled trout have come back to life. I've been too busy fishing lately to update, as I'm sure most of you have already heard this news. Almost anywhere you have caught them in the past, if you stop, and float a live shrimp you will get some bites as long as you have current. If not, move on quickly because they are biting somewhere. They will take artificials as well, but if you are looking for numbers, stick with the shrimp, I promise you, no matter what it says on the package you cannot beat a live one under a cork with very few exceptions. Sizes have been mixed, with a lot of 13-15 inchers in the mix, but we've seen plenty of trout over 3 pounds! We've also been catching some stripers as well as redfish, black drum, and a few sheepshead though I must say that trout have been the main target and the main bite. We are booked the next few days, but give us a call to get in on your own Ocean Isle Fishing Charter. Some of the best Ocean Isle inshore fishing will occur over the next 30-45 days!
Catch y'all on the next tide...
Capt.Mark Stacy
---